Z Type Clevis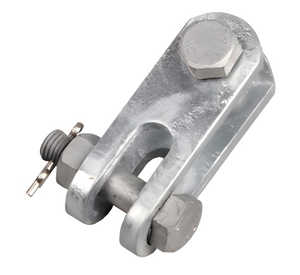 Durable Z & ZS type clevises are one kind of turning-connected fittings that can change the connected direction. As the two
connected ends of rod form right angle, they are of flexible alternation & strong adaptability. They are made up of medium-thick
steel plate combined with the technics of punching & bending. Based on their structure character, Z & ZS type clevises can be
processed by steel plate while those items with considerable failure load shall be produced by ductile iron or casting steel.
Connection method:
Use pins or bolts to connect with other products;
use and application range:
Used for the connection of overhead line metal fittings.
Executive standard:
Meet the technical requirements of DL/T 759 and conform to IEC 61466, IEC 61284 AND BS 3288 standard request.
Technical specifications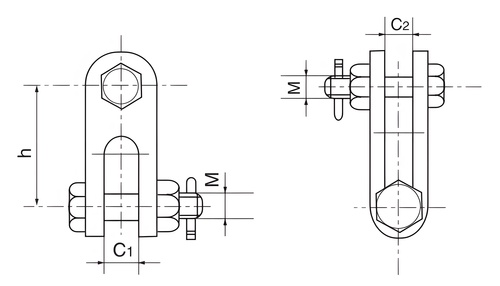 Type

Dimensions(mm)

Failure load (kN)

Weight (kg)

C1

C2

M

H

Z-7

18

18

16

60

70

0.6

Z-7B

20

18

16

80

70

0.7

Z-10

20

20

18

70

100

0.8

Z-10B

20

20

18

80

100

0.9

Z-12

24

24

22

80

120

1.3

Z-16

26

26

24

90

160

2.5

Z-16C1

26

26

24

140

160

3.2

Z-16C2

26

26

24

170

160

3.8

Z-21

30

30

27

120

210

3.5

Z-25

34

34

30

120

250

3.8

Z-21S

24

26

24

190

210

2.0

Z-25S

28

28

27

110

250

3.5
Material: Stainless Steel, Hot Dip Galvanized Steel