MV SURGE ARRESTER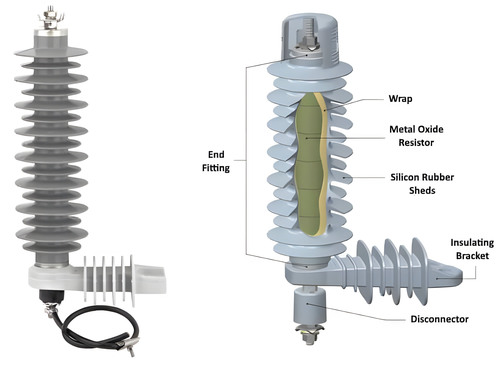 Descruption
The MV Zinc oxide surge arrester is used for the protection of transformers, switchgear and MV distribution lines against
switching and atmospheric overvoltages. It is ideal for indoor or outdoor applications and where the degree of pollution is high.
It has the following advantages and features:
• The installation of these surge arresters on the HV side simplifies the choice of protection devices against overvoltages on the low voltage
side (in TN or TT systems) intended to protect equipment from transient phenomena originating from the line;
• Meeting the requirements of IEC/EN 60099-4;
• State-of-the-art metal oxide surge arresters without spark gap and with silicone housing;
• SPD size and volume based on the minimum required for each rated voltage;
• The insulation of the arrester is characterized by the absence of connection lines;
• The construction and manufacturing process prevents partial discharges;
• Sealed with aluminum fittings and finished with stainless steel clamps, screws and washers.
Model and Meaning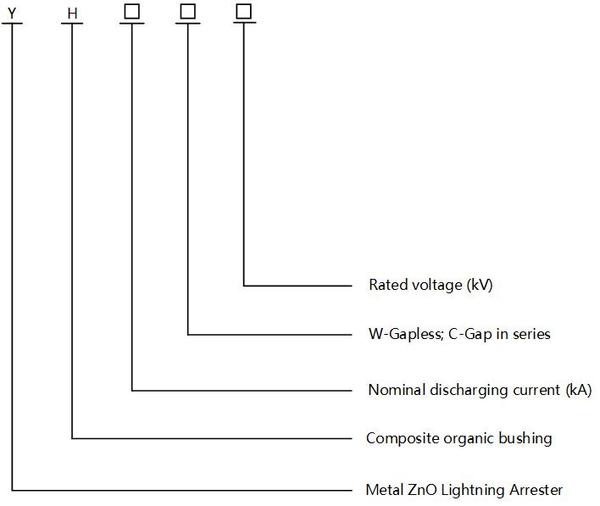 Technical Specifications
Type

Rated voltage

(kV)

MCOV

(kV)

Temporary Overvoltage

Capability (TOV)

(kV)

Max steep current

impulse residual voltage

(kV)

Ur

Uc

1 s

10 s

10 kA

YH10W-3

3

2.55

3.62

3.47

9.5

YH10W-6

6

5.1

7.25

6.94

19.0

YH10W-9

9

7.65

10.9

10.4

28.5

YH10W-10

10

8.3

11.9

11.4

36.0

YH10W-11

11

9.5

14.5

13.9

38.5

YH10W-12

12

10.2

18

17.3

38.0

YH10W-15

15

12.7

21.7

20.8

47.5

YH10W-18

18

15.3

24.2

23.1

57.0

YH10W-21

21

17

27.7

26.5

66.5

YH10W-24

24

19.5

29.8

28.6

76.0

YH10W-27

27

21.9

31.3

29.9

85.5

YH10W-30

30

24.4

34.7

33.2

95.0

YH10W-33

33

26.8

38.4

36.7

104.0

YH10W-36

36

29.0

41.4

42.9

114.0

YH10W-42

42

34.1

44.8

43.3

133.0

YH10W-48

48

39.0

55.4

53

152.0

YH10W-54

54

43.0

62.5

59.8

171.0

YH10W-60

60

48.0

69

66

208.0

YH10W-66

66

53.4

75.9

72.6

230.0
Type

Max. Residual Voltage (kV)

2000μs Square Wave Current

Impulse Withstand

(A)

4/10μs High current impulse withstand

(kA)

30/60 µs

Switching impulse

8/20μs Lightning

current impulse

7.7

9

250

100

YH10W-6

15.4

18

250

100

YH10W-9

23.1

27

250

100

YH10W-10

27.0

30

250

100

YH10W-11

30.0

33

250

100

YH10W-12

30.8

36

250

100

YH10W-15

38.5

45

250

100

YH10W-18

46.2

54

250

100

YH10W-21

53.9

63

250

100

YH10W-24

61.6

72

250

100

YH10W-27

69.3

81

250

100

YH10W-30

76.5

90

250

100

YH10W-33

84.7

99

250

100

YH10W-36

92.7

108

250

100

100.0

126

250

100

YH10W-48

126.0

150

400

100

YH10W-54

139.0

162

400

100

YH10W-60

160.0

180

400

100

YH10W-66

172.0

198

400

100