Manually Operated Overhead Switch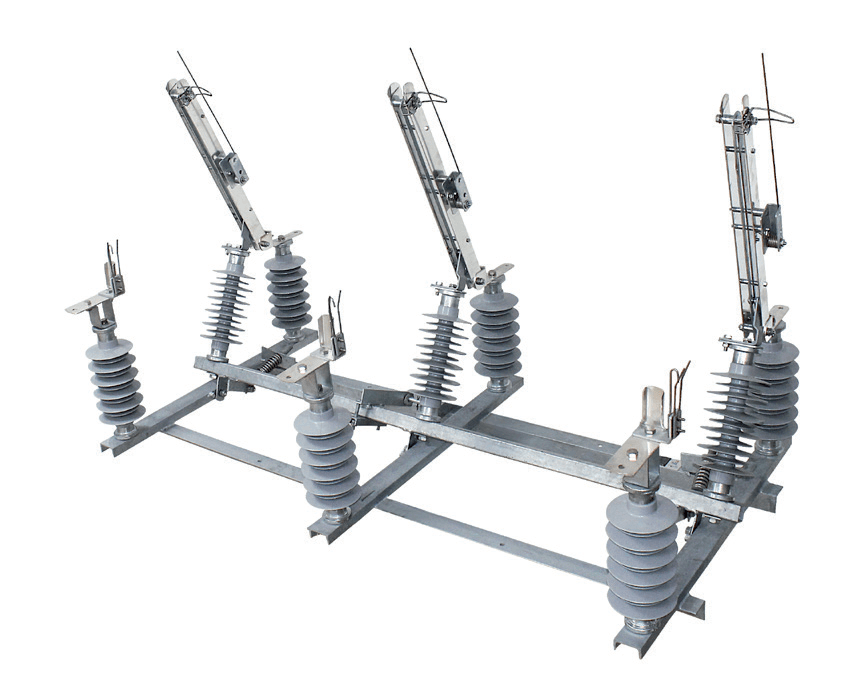 Main Features
The switch disconnectors have been designed for overhead voltage distribution networks max. 36kV. They make it possible to isolate the part of the network downstream of the permanent fault, and to ensure maintenance interventions in perfect safety.
In this device, the classic overhead switch pantograph has been replaced by a copper contact knife. Its "U" profile gives it great elasticity, guaranteeing perfect electrical contact, both on the "break" side (fixed contacts) and on the "articulation" side. The movement of the contact knife is ensured by the tilting of the mobile insulator.
There are two versions of this switch:
The "A type" with porcelain insulators.

The "B type" with polymer insulators.
The screws and metal parts in steel are treated by hot-dip galvanizing.
There is also an option with epoxy and polyurethane protection and stainless steel screws.
This version provides exceptional resistance in severe chemical pollution conditions and in an aggressive climatic environment (seaside, sandstorm, etc.).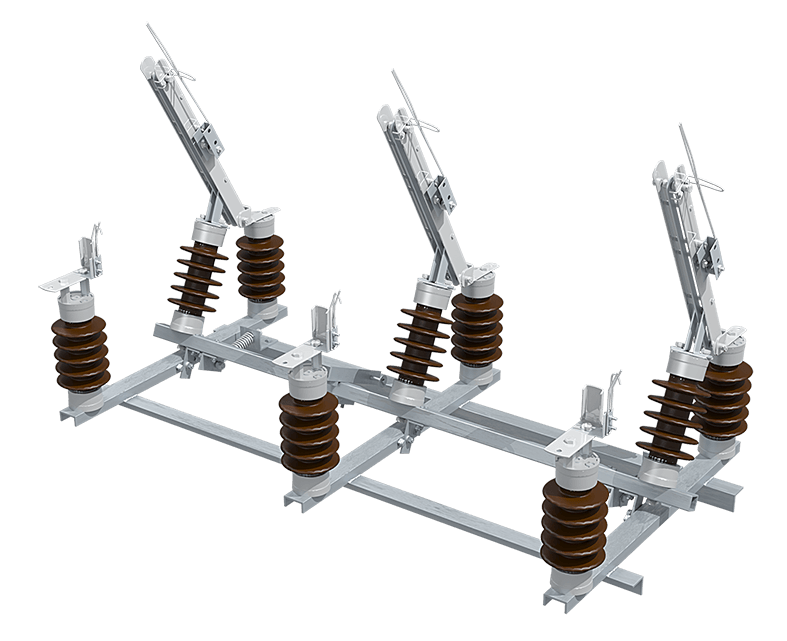 Principle of operation
When closing the device, the kinematics are provided in such a way that the engagement of the whip in its hook only takes place once the contact between the mobile knife and the firmly fixed knife is established.
When opening the device, the whip is released suddenly as in any system of this type of device.
Its braking at the end of its travel is obtained thanks to the relaxation of its spring, the turns of which will have been loaded during closing.
Thanks to the large angular displacement of the whip, its end travels in extremely short times a distance much greater than that traveled by the fixed whips of conventional systems. The breaking capacities thus obtained are markedly higher and the arcing times extremely reduced.
Mechanical characteristics
Complies with IEC 60694 and IEC 62271-102 specifications for high-voltage switchgear and controlgear, Part 102.

Chassis fitted and assembled in the factory, ensuring synchronized operation of the three poles. Made of hot-dip galvanized steel according to the UNE EN ISO 1461 standard. The devices for heavily polluted areas undergo a special treatment with epoxy and polyurethane paint.

Articulations by means of bronze – aluminum rings

Fasteners in galvanized steel or stainless steel (depending on version).

Zicral whisk (aluminium, zinc and magnesium alloy), giving it great resistance, mounted on a stainless steel spring.

C2 170 III porcelain insulators, brown colour, in accordance with standard IEC 168:1994, with externally sealed hot-dip galvanized steel bases.

Synthetic insulators according to standard IEC 61109, gray colour, injected on a fiberglass core and hot-dip galvanized steel bases.

Hardened copper contact knife, U profile, silver plated on the contact surface.

Fixed contact elements in 1.5 micron silver aluminum cast bronze and tinned copper connection pads.

Two symmetrical chairs in hot-dip galvanized steel (or with specific treatment for highly polluted atmospheric conditions) for fixing to posts.

Control linkages in hot-dip galvanized steel (or with specific treatment for highly polluted atmospheric conditions) with intermediate insulator in epoxy or cycloaliphatic resin (depending on version).

Control with insulating handle resistant to UV rays and possibility of padlocking in the open or closed position.
Technical Specifications
Designation

24KV

36KV

A

B

A

B

Rated voltage Ur

KV

24

36

Rated current Ir

A

400

breaking capacity

A

50

Rated frequency Fr

Hz

50

Insulation level

to earth and between pole

at 50 Hz 1 min. wet effective value.

kV

50

70

lightning impulse 1.2/5μs peak value

kV

125

170

on the sectioning distance

at 50 Hz 1 min. wet effective value

kV

60

80

lightning impulse 1.2/5μs peak value

kV

145

195

Rated short-time withstand current

kA

10

Peak value of the permissible current

kA

25

Creepage distance of insulators

mm

600

900

900

900

Weight

Kgrs

119

92

144

92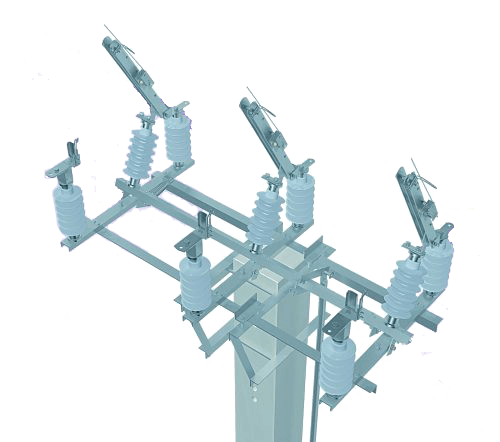 、