Adjuster Plate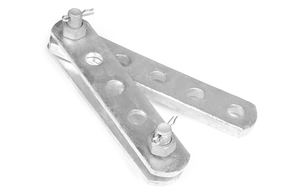 Adjuster Plate is a connection fitting with adjustable length.
Applications:
Transmission line system, communication system
Technical features:
The adjuster plate is generally used on the tension insulator string to adjust the string length.
Advantages:
1. The surface is smooth and free of burrs;
2. The adjuster plate uses hot-dip galvanizing to prevent corrosion;
3. The mechanical strength of the adjuster plate is high.
Technical specifications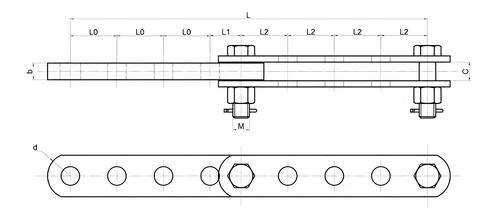 Reference

Dimensions (mm)

Failure Load

(kN)

L0

L1

L2

M

d

b

C

L

PT-7

45

30

45

16

18

16

18

225-345

70

PT-10

50

40

50

18

20

16

20

250-390

100

PT-12

60

75

60

22

24

16

24

315-495

120

PT-16

65

50

65

24

26

18

26

325-505

160

PT-21

70

90

70

27

30

26

30

370-580

210

PT-25

80

90

80

30

33

30

34

420-660

250

PT-30

85

100

85

36

39

32

38

455-710

300

PT-50

70

80

100

42

45

38

40

740-1280

500

PT-60

90

80

100

48

51

42

44

820-1390

600

PT-21370-580

70

80

70

24

26

20

24

370-580

210

PT-25420-660

80

90

80

27

30

24

28

420-660

250

PT-32420-660

80

90

80

30

33

28

32

420-660

320

PT-42440-680

80

100

80

36

39

32

36

440-680

420

PT-55550-820

90

140

90

36

39

32

36

550-820

550

PT-64600-900

100

150

-

42

45

36

40

600-900

640

PT-84870-1310

110

215

100

48

51

36

44

870-1310

840

PT-110740-1180

110

150

110

52

55

40

48

740-1180

1100

PT-128800-1280

120

160

120

60

64

45

52

800-1280

1280

PT-168690-990

150

240

-

72

76

52

62

690-990

1680