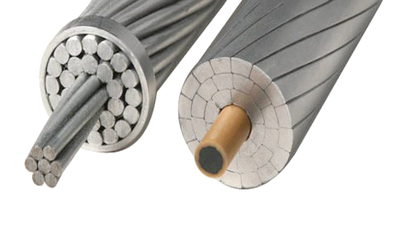 When compared with conventional conductors, HTLS conductors or High-Temperature Low Sag Conductors have the capability to withstand a temperature of 250 °C (maximum). Thus, the conductor accessories, power clamps, and insulator hardware need to be distinctive for the continuance of its operation. Basically, HTLS have high tensile strength and can solve temperature challenges.
How are HTLS conductors different from ACSR?
With the advancement in technology, there has been an upgrade in the conductors, and this is where HTLS comes in as the new generation of high ampacity conductors. In the current uprating, HTLS conductors can replace very ACSR conductors. These two can be considered to be geometrically similar, but a normal ACSR conductor cannot bear more than 90 °C. There is a huge difference in the resistance power. Thus, low sag conductors must be considered when the temperature surpasses 90 °C. With metallurgical changes that involve the outer layer and the core, HTLS conductors can be manufactured, which supports every high-temperature operation.
Modifying regular conductor to HTLS
The conducting material is annealed for high ampacity, and the steel core is coated with resistant material such as carbon. Thus, regular accessories cannot be used if the HTLS is elevated to conduct high-temperature work. Based on the IEC standard, thorough testing is conducted by the manufacturers. And, then the connectors and new fittings are designed and developed.
Benefits of HTLS conductor
HTLS conductors can deliver a high amount of power even if the temperature rises. And, simple changes in the present design make them suitable for installing them in the towers that are devised for ACSR conductors. Thus, no extravagant cost and no high-end machinery are required for the conversion.
This conductor also gets a quick ground clearance due to its less sagging property and can be used on the existing lines. And, if newlines are formed, especially for the HTLS conductor, then it can reduce the number of tower installations throughout the route, allowing higher spans.
Designing and manufacturing of specialized HTLS conductor fittings
The hardware that needs to be fitted with HTLS conductors are splices, dead ends, suspension clamps, repair sleeves, PA rods, vibration-dampers, mid-span compression joints, etc. All these are amalgamated for the formation of a transmission line. HTLS being a high-end conductor, the accessories must be designed specifically to support its conducting operation.
Further, it is a general fact that HTLS conductors must not come in contact with oil or paper insulation bushes. So, the towers and accessories must be constructed by following the standard AAAC or ACSR conductors, and this can carry the current without heating the equipment terminals.
Requisites for designing and manufacturing HTLS conductor accessories
While designing the conductor accessories, there are certain aspects that must be followed, such as:
Establishing laboratory testing facilities and investing in testing equipment.

Experienced, trained and certified engineers and technicians must be hired for conducting the tests.

Sophisticated units such as VMC, CNC, machine shop, SPM and other features are mandated to develop the HTLS fittings successfully.

Quality control staff for vigorous testing are usually hired to ascertain the quality and maintain the relevant international standards.
Conclusion
HTLS is designed and developed for specific and recently developed applications. It can also be used to solve many existing problems, such as reconducting an existing line. Hanford ELectric Co.,Ltd has successfully manufactured HTLS conductors and their accessories, maintaining the standards.