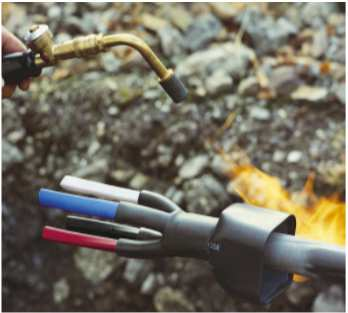 Power cable accessories should be durable, strong and capable enough to withstand harsh weather. Along with that, they should be easy to install and use. Usually, power cable accessories support 1 kV to 42 kV power cables. However, the voltage range for the cables varies based on system, standard and country.
Power cable accessories provide network stability and enhance product performance. These accessories are applicable to support strong to medium voltage cable networks.
Thus, it is essential to know about the power cable accessories in detail so that you can implement the accurate technology during installation.
Power cable accessories include jointing kits, termination kits and plug-in connectors, and they are –
Heat shrink cable terminators
These usually include 1 to 3 terminators and are meant for Polymeric insulated cables, Paper insulated cables, and Aerial bunched cables. These cables are of range 66 kV to 36 kV.
Cold shrink cable terminators
These are suitable for one and two core Polymeric Insulated cables, and the range extends up to 36 kV. The best part is that these accessories are compatible with mechanical type connectors and compression.
Screened separable connectors
If you are looking for accessories that can connect single to three core Polymeric Insulated cables, these are the best choices. They are touch-proof connectors for medium voltage switchgear. And, it can also be used for RMU and other equipment. Made of EPDM rubber, these accessories are particularly durable in nature.
Heat shrink cable joints
Be it armored or unarmored, normal heat shrink cable joints are meant for polymeric cables. In this category, you can also find Heat Shrink Straight through joints, Heat Shrink Straight through transition joints, and Heat Shrink Straight through joints suitable for PILC cable. The usual range of power cables is 36kV to 72 kV.
Pre-moulded cable joints
If you need to connect all types of single and 3-core Polymeric Insulated cables, you must pick a Pre-moulded cable joint kit. The cable cross-section ranges up to 400 mm square. These power cable accessories are also compatible with compression and mechanical type connectors. Additionally, they have an integrated stress control arrangement.
Cold shrink cable straight joints
If you are looking to connect single or three core cables, then cold shrink straight joints would be the perfect match. You can connect any design of polymeric insulation using these accessories. And, they have great weathering properties and high insulation power owing to the silicon rubber material. Further, these accessories are compatible with compression and mechanical type connectors.
Important facts about power cable accessories
Other than this, there are a few facts about power cable accessoriesthat you must not ignore.
Copper is not always a better conductor when it comes to conductivity and resistivity.

Aluminum selection occurs with respect to the circumstances, which imparts an economic benefit.

Further, the current-carrying capacity of the cable can face disruption due to numerous conditions such as air, temperature, prevailing ground etc. Thus, you need to know these aspects before installing power cables.

You must accept that these power cables won't last as long as you expect.

Moreover, the installation process plays a crucial factor in the longevity of a cable.

You can use cable armour to protect against physical damage, but you cannot prevent the moisture from getting inside.
Conclusion
You get reliable and high-end power accessories to support the entire installation process. Further, electrical accessories are also quite prone to accidents, so inspection and safety are highly essential. With Hanford Electric, you get power accessories that follow regulations and manufacturing codes to ensure safety.