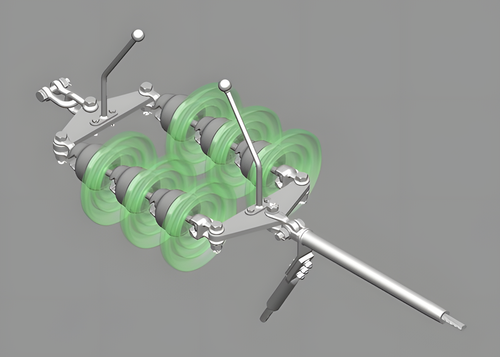 Transmission cables are the lines that transfer bulk electricity power through overhead lines and transmission underground cables. The big electricity towers that we see around us are the ones that use such transmission line hardware. Transmission line hardware fittings manufacturers in India now offer international quality for transmission fitting lines. There are various varieties of such transmission lines that are currently popular in the market.
With the latest technology advancements, manufacturers now offer galvanising technology that ensures every transmission line hardware fittings of exceptional quality. These transmission fittings are available in various power loads. These transmission fittings are available in various materials. The materials of these components of transmission line hardware fittings manufacturers in India vary according to the different designs of fittings.
Mostly these components are forged in steel and aluminium. The material is sometimes galvanised and forged in steel. Various transmission line hardware fittings are in forged steel, and some are in aluminium-steel combination.
Types Of Hardware Fittings
Here are the various elements and types of transmission line hardware fittings that are crucial parts of power terminal towers.
Anchor Shackle
This part of transmission fittings is the one that connects the anchor to the chain of electricity. Anchor shackles are in forged steel mostly.
Yoke Plate
Insulator strings and sub conductor spacing require strain equaliser plates like York plates. Mild steel material is for yoke plates for transmission fittings.
Socket Eye
Insulator fitting components are primarily the ones connecting hardware balls to socket types strain insulators. This attachment is crucial for the hotline transmission work of towers.
Socket Clevis
Indispensable transmission line hardware that is responsible for connecting the tension clamp and insulator sockets. They are also known as socket tongues, widely the part of overhead lines and power lines.
Arching Horn
Arcing horns are sometimes also referred to as arc-horns to protect switch hardware fittings from flashover damage. The projecting conductors of the fittings that protect insulator hardware are galvanised steel.
Tension Clamp
A tension clamp is the hardware fitting with claw-like tension fittings responsible for clamping transmission fittings on power towers.
Suspension Clamp
Similar to a tension clamp, a suspension clamp is the one that keeps the power cables on the longitudinal sides of transmission fittings.
U-Bolt
Justifying the name of the transmission fitting parts, the u-shape clamp is mostly to support the transmission ropes and cables.
Ball Clevis
Ball clevis is the component of transmission fittings hardware fittings to link ball and socket. Ball clevis is mostly designed in forged steel material.
Spacers
A spacer is a fitting component responsible for separating assembly parts of the transmission setup of towers. Aluminium spacers are used for places where electrical conduction is in demand.
Conclusion
Most of the power tower assembly components are designed for overhead and underground types available from transmission line hardware fittings manufacturers in China.
Most of the fitting components are in forged steel. Several components are critical parts of the transmission assembly.